Providing top-shelf technology at a mid-shelf price
Stop overpaying for monitoring solutions that undervalue your resources and provide less support than they should.

Safety, Compliance & Efficiency. Simplified.
Temperature and Air Pressure Differential Monitoring. Trusted by hundreds of facilities to eliminate costly operational mishaps while improving compliance readiness. Connect, Detect and Protect Your Essential Assets and People.

Asset Protection + Compliance Automation = Your Peace Of Mind.
Say Goodbye to Manual Logging, Tedious Compliance Reports and the Threat of Critical Asset Loss.
And say hello to cloud-based, 24/7 asset protection that unleashes your people, automates your critical reporting and delivers peace of mind that your critical environments are always protected. This reporting will fully resolve your inspection and compliance needs.
Sonicu's Remote Monitoring Kits
Monitoring kits include everything you need for fast deployment and virtually instant monitoring. From Cyrogenic: Ultra-Low Temperature Kits to Room Condition Kits that monitor an environment for air pressure differential, temperature, and humidity.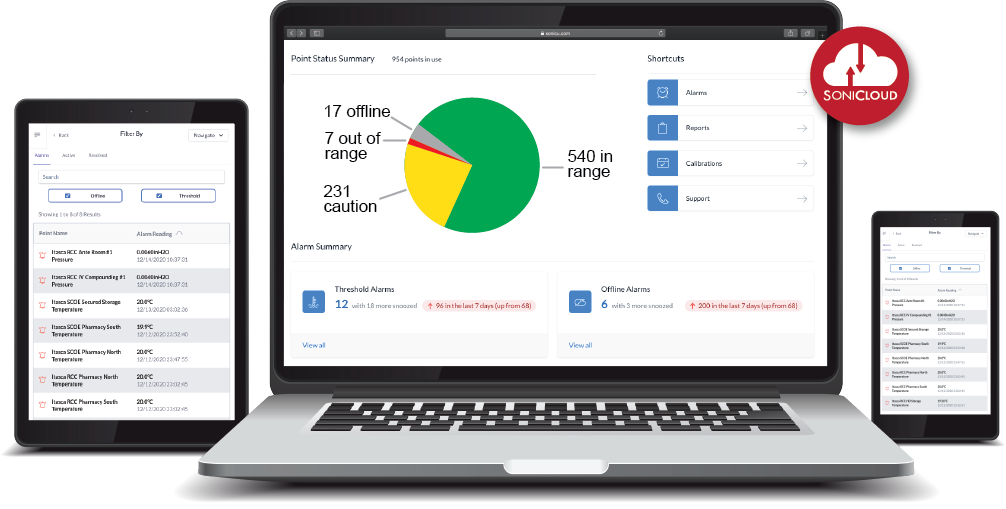 Ohio University Testimonial